Greener Grass Department
Thursday, August 19, 2004
Have you ever noticed how gorgeous Canadian money is? The reasons for me to not emigrate to Canada are getting fewer and fewer. I still can't stop laughing when Canadians say "Ay" a lot, or when they end every sentence they speak like they are asking a question. But, at least it's an internal laugh, more a smile of the mind, and I'm not really laughing at them in a condescending way. I really do find it endearing.
Back to the money. It's just absolutely beautiful.
Take a look at this!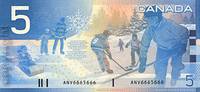 Finally, the U.S. Treasury is introducing more color to our
paper money
, but even so, there's no escaping the stuffy wealthy white men and the cold D.C. monuments. I've traveled a little, and U.S. money really is terribly ugly in comparison. Check out Israel's
20 Sheqalim
note. Now, here's Egypt's
50 Piastres
. When I was in Israel and Egypt, I thoroughly enjoyed spending that money.
For a country with such pride, a country prone to macho one-upsmanship (the space race being the prime example), for U.S. money to be so bland is almost impossible to understand.
Check out Afghanistan's
50 Afghanis
, and Iraq's
50 Dinars
. It just doesn't make any sense!
(Ok, I can't resist, do ya think that's a WMD factory on the 50 Dinar bill?)
The website hosting these images -
World Paper Money
- doesn't even include U.S. money in their extensive collection.
Now, don't even get me started on coins.